• TrueLock™ Signal Rejection permanently eliminates false alerts by location and frequency.
The PASSPORT 9500i radar detector puts an end to false alarms. Its new GPS-powered TrueLock™ feature allows you to simply press the mute button a couple of times and never hear a radar-based automatic door opener or motion sensor again. Our patented design captures the location coordinates and the exact frequency of the signal and stores them in memory. Once stored, TrueLock™ will reject these signals, but is intelligent enough to warn you of a new or different signal in that same location. That's right, no more false alarms!

• Variable Speed Sensitivity provides real-time radar protection based on vehicle speed.

The PASSPORT 9500i radar detector can automatically vary its sensitivity based on the speed of your vehicle. At interstate speeds, all radar bands are operating at full sensitivity, providing the best possible performance. At really slow speeds, like parking lots and stop lights, the sensitivity is turned down to almost zero. No more irritating alerts when you are going below the posted speed. The result is real-time on-demand radar protection.
• SpeedAlert™ provides vehicle speed during each alert.

The PASSPORT 9500i radar detector provides all the information you need to make an intelligent decision during each and every alert. The radar or laser band, signal strength, and now your vehicle speed are displayed during an alert to help you make the best possible decision.
• Mark Location stores speed traps and other locations in memory.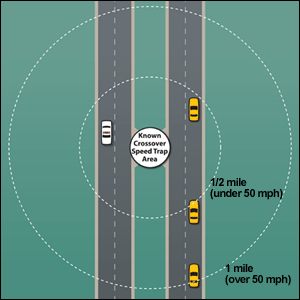 Speed traps and camera locations are everywhere. It's a stretch of highway where they always sit, or it's a back road that quickly changes from 45 mph to 25 mph within a few hundred feet. You don't always remember, but now your PASSPORT 9500i will. The PASSPORT 9500i's "Mark Location" feature allows you to quickly store a specific location in memory. Simply tap the "Mark" button a couple of times and the 9500i will store this location in memory. The next time you approach this area, the PASSPORT 9500i will provide an alert well in advanced to remind you of the potential danger. This specific location reminder could keep you from being ambushed by instant-on radar or laser the next time you approach.

• AutoVolume automatically adjusts the alert volume based on ambient noise.
The PASSPORT 9500i will adjust the alert volume level based on the ambient noise in the vehicle. Using a miniature microphone, the 9500i monitors ambient noise and will increase the volume level automatically to ensure you take notice even with loud music, passenger conversations or excessive wind noise. Now each alert will be heard so you can react if needed.
• Crystal-Clear Voice Alerts the PASSPORT 9500i provides users with a real voice alert option.
The PASSPORT 9500i uses a Geiger-counter-like sound to indicate the signal strength and unique audible tones to identify each alert by band. Or, choose the PASSPORT 9500i's new Voice Alert option for crystal clear communication of alerts and user controls.